Undercurrent
Laxalt: No need for Nevada to act on 3D gun blueprints
Attorney General Adam Laxalt says there is no need for his office to join legal efforts to prevent a self-described "crypto-anarchist" from posting blueprints for printing 3D guns on the internet.
Earlier this summer, the Trump administration's Justice Department reached a settlement effectively allowing a Texas company to publish 3D gun blueprints online. The Obama administration had taken legal action to stop the company founder, Cody Wilson, from publishing the blueprints.
Following the Trump administration's deal, 19 states and the District of Columbia sued to stop the plans from being published, and a U.S. District Judge in Seattle last month issued a restraining order blocking Wilson and his company, Defense Distributed, from publishing the blueprints. The states have asked the judge to make the injunction permanent, and Judge Robert Lesnick says he'll make a ruling by Monday, The Associated Press reports.
Last month, Rep. Dina Titus called on Laxalt to "use your authority to file an immediate injunction" so as "to prevent the production and circulation" of the blueprints. "3D-printed firearms do not trigger metal detectors, lack serial numbers or other identifying marks, and have limited or no records of production, sale, and distribution," Titus wrote.
Titus is a close political ally of Steve Sisolak, Laxalt's Democratic opponent in the race for governor.
Wednesday, more than three weeks after Titus sent her letter, Laxalt tweeted the response that he sent to the congresswoman. In that letter, Laxalt defended legal grounds for the Trump administration to settle with the Texas company, and said Titus's letter "mischaracterizes" that settlement. The case "does not, as you suggest, present a legal challenge to any provision of state or federal law that governs the actual possession, manufacture, or sale of firearms," Laxalt wrote.
Federal law "already makes the creation or possession" of untraceable weapons "a felony," Laxalt said, adding the Justice Department "has recently reiterated its commitment to 'vigorously enforce' that law 'to the fullest extent.'"
Last week, Laxalt was asked about 3D-printed guns by the Reno Gazette-Journal. "Can (3D guns) actually shoot or can't they?" he asked. "I don't know the answer, so that's why we've got to sort out truth from myth.
"But we will look into it, as we've said, on the official side, and if it's something that's a concern for our citizens then we'll consider doing something about it," Laxalt told the Gazette Journal.
Here is the full text of Laxalt's letter to Titus: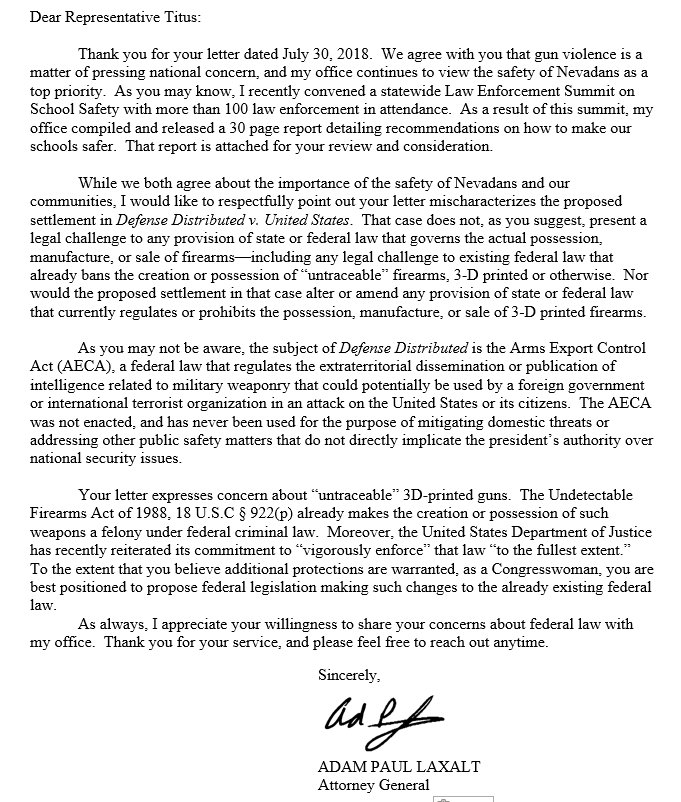 Our stories may be republished online or in print under Creative Commons license CC BY-NC-ND 4.0. We ask that you edit only for style or to shorten, provide proper attribution and link to our web site. Please see our republishing guidelines for use of photos and graphics.